Important medicines in cardiology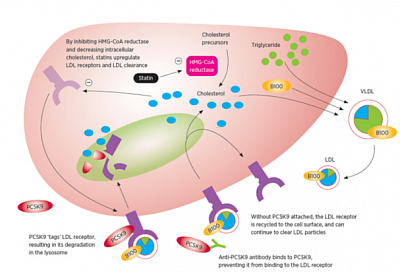 PCSK9 ACTION
1. Antilipid medicines
Contents 
Anti-lipid medicines
Anti-coagulant and anti thrombotic
Fibrinolytic
Anti-arrhythmic
Beta Blocker
Diuretic
Anti-Hypertensive
Cardiotonic
Vasoactive
Corticosteroid 
_______________________________
1. Anti-lipid medicines 
1)  Hereditary Familial Hyperlipidemia (HeFH), to reduce LDL-C. 140 mg SC q2weeks or 420 mg SC once monthly. 
2)  Cardiovascular Events: to reduce the risk of myocardial infarction, stroke, and coronary revascularization. 
3)   Primary Hyperlipidemia: Adjunct to diet, with primary hyperlipidemia, familial hyperlipidemia. 

Homozygous Familial Hypercholesterolemia. 
Indicated as an adjunct to diet and other LDL-lowering therapies (eg, statins, ezetimibe, LDL apheresis) for the treatment of patients with homozygous familial hypercholesterolemia (HEFH) 
Measure LDL-C levels 4-8 wk after initiating,
No dose adjustment requiredSevere or end-stage renal disease (ESRD): reductions in PCSK9 levels in patients with severe renal impairment or ESRD receiving hemodialysis was similar.
Mechanism of action: Monoclonal antibody that binds to PCSK9 (proprotein convertase subtilisin/kexin type 9). LDL-C is cleared from the circulation preferentially through the LDL receptor (LDLR) pathway. PCSK9 is a serine protease that destroys LDLR in the liver, resulting in decreased LDL-C clearance and increased plasma LDL-C. PCSK9 inhibitors decrease LDLR degradation by PCSK9, and thereby improve LDL-C clearance and lower plasma LDL-C.
____________________________________

B. Atorvastatin (Atorvastatin Study) in Cardiovascular Disease Risk:
Statins, which inhibit cholesterol biosynthesis, have both pleiotropic and Low-Density Lipoprotein (LDL)-lowering properties. Atorvastatin is one of the choices for the primary and secondary prevention of cardiovascular disease and management of hypercholesterolemia.

____________________________________

2. Anti Coagulation
Warfarin, a coumarin derivative, produces an anticoagulant effect by interfering with the cyclic interconversion of vitamin K and its 2,3 epoxide (vitamin K epoxide). Vitamin K is a cofactor for the carboxylation of glutamate residues to γ-carboxyglutamates (Gla) on the N-terminal regions of vitamin K–dependent PROTEINS. These proteins, which include the coagulation factors II, VII, IX, and X, require γ-carboxylation by vitamin K for biological activity.
CyP450: the gene coding for cytochrome P450, the hepatic enzyme responsible for oxidative metabolism of the warfarin S-ISOMER. Several genetic polymorphisms in this enzyme have been described that are associated with lower dose requirements and higher bleeding complication rates compared with the wild-type enzyme CYP2C9.
NSAID & ASPIRIN: Drugs such as ASPIRIN, nonsteroidal antiinflammatory DRUGS, penicillins (in high doses), and moxolactam increase the risk of warfarin-associated bleeding by inhibiting platelet function. Of these, aspirin is the most important because of its widespread use and prolonged effect. Aspirin and nonsteroidal antiinflammatory drugs also can produce gastric erosions that increase the risk of upper gastrointestinal bleeding.
Potentiation: erythromycin and some anabolic steroids potentiate the anticoagulant effect of warfarin are unknown. Sulfonamides and several broad-spectrum antibiotic compounds may augment the anticoagulant effect of warfarin in patients consuming diets deficient in vitamin K by eliminating bacterial flora and aggravating vitamin K deficiency.
Antithrombotic action: The suggestion that the antithrombotic effect of warfarin is reflected in lower levels of prothrombin forms the basis for overlapping heparin with warfarin until the PT (INR) is prolonged into the therapeutic range during treatment of patients with thrombosis. Because the half-life of prothrombin is ≈60 to 72 hours, ≥4 days' overlap is necessary.
Anticoagulant action: anticoagulant action depends on reduction of 3 of the 4 vitamin K–dependent procoagulant clotting factors (II, VII, and X).
Metabolised by liver. Dose adjustment in renal failure not required, INR maintained by dose adjustment.
OTHER anticoagulant combination: Careful consideration needed when need to combine with DAPT. Enoxaparin can be used as bridging anticoagulant when warfarin is stopped for surgical intervention, as Enoxaparin can be stopped on the day of intervention. 
____________________________________

B. Anti-Factor Xa (Apixaban) 2.5-5 upto10 mg bd. Renal impairment, no dose adjustment unless eGFR<15, OR Age>60, or chances of bleeding is high. 


1- Stroke Prophylaxis with Atrial Fibrillation - nonvalvular. 
2- Postoperative Prophylaxis of DVT/PE. 

Indicated following hip or knee replacement surgery, for deep venous thrombosis (DVT) and pulmonary embolism (PE) prophylaxis. 
3- Prevention of recurrent DVT, PE, 10 mg PO BID x 7 days, then 5 mg Bid. Recurrent DVT and PE following initial 6 months treatment for DVT and/or PE, 2.5 mg PO BID.
Renal impairment, including ESRD: No dose adjustment recommended. 
Dosing adjustment with plasma anti-FXa activity level.
Switching between apixaban and anticoagulants other than warfarin: Discontinue one being taken, and begin the other at the next scheduled dose. 
Switching from warfarin to apixaban: Discontinue warfarin and initiate apixaban when INR <2.0
Switching from apixaban to warfarin: Apixaban affects INR. So, discontinue apixaban and begin both a parenteral anticoagulant and warfarin at the time the next dose of apixaban. Discontinue parenteral anticoagulant when INR reaches an acceptable level.
Surgery/procedures: Discontinue at least 48 hr before elective surgery or invasive procedures with a moderate or high risk of unacceptable or clinically significant bleeding. Otherwise, discontinue at least 24 hr before. 
____________________________________
C. Heparin

Inactivates factors IX, X (in low dose), XI and XII, and thrombin, and inhibits conversion of fibrinogen to fibrin. Also inhibits activation of factor VIII, in high dose. 
Protein bound, Liver metabolism, nondialyable (as a unfractionated glucoseaminoglycan polymer). 
1-  PE: 
Prophylaxis 5000 units SC q8-12hr,
Treatment 80 units/kg IV bolus, THEN continuous infusion of 18 units/kg/hr, OR  5000 units IV bolus, THEN continuous infusion of 1300 units/hr. 
2- Acute Coronary Syndromes
PCI Without GPIIb/IIIa inhibitor: Initial IV bolus of 70-100 units/kg (target ACT 250-300 sec)  
With GPIIb/IIIa inhibitor: Initial IV bolus of 50-70 units/kg (target ACT >200 sec). 
3- STEMI
Patient on fibrinolytics: IV bolus of 60 units/kg (max: 4000 units), THEN 12 units/kg/hr (max 1000 units/hr) as continuous IV infusion. Dose should be adjusted to maintain aPTT of 50-70 sec. 
4- Unstable Angina/NSTEMI: Initial IV bolus of 60-70 units/kg (max: 5000 units), THEN initial IV infusion of 12-15 units/kg/hr (max: 1000 units/hr). 
Prolong one-stage prothrombin time. 
Prevention of clot formation within venous and arterial catheters Use 100 units/mL. 
_____________________________________
D. LOW MOLECULAR WEIGHT HEPARIN Tinzaparin) 
Mechanism of work: 
LMWH; antithrombotic, that inhibits factor Xa by increasing inhibition rate of clotting proteases that are activated by antithrombin III. 
Generally does not increase PT or PTT. Activity measured by anti Factor Xa assay. 
Contraindicated with defibrotide mifepristone prothrombin complex concentrate. 

Tinzaparin sodium Syringe 10,000 IU/ml Solution for injection in pre-filled syringe
1) Innohep® is a low molecular weight heparin indicated for treatment of deep-vein thrombosis (DVT) and pulmonary embolism (PE). 
The product is available as a 2-mL multiple-dose vial containing 20,000 anti-factor Xa units of tinzaparin sodium per milliliter. The drug should be administered subcutaneously via a calibrated syringe once daily for at least six days until there is adequate anticoagulation with warfarin (an INR of at least 2 for two consecutive days). These recommendations are consistent with current treatment recommendations for acute DVT, which state that a minimum of five days of therapy with UFH or an LMWH should be provided while warfarin therapy is being adjusted to achieve an INR of 2-3.

2) Prophylaxis of venous thromboembolism in adult patients undergoing surgery, particularly orthopaedic, general or oncological surgery.
3) Prophylaxis of venous thromboembolism in non-surgical adult patients immobilised due to acute medical illness including: acute heart failure, acute respiratory failure, severe infections, active cancer, as well as exacerbation of rheumatic diseases.
4,500 anti-Xa IU given SC 12 hours before surgery and then once daily for as long as the patient is considered to be at risk of VTE.

4) Prevention of clotting in extracorporeal circuits during haemodialysis and haemofiltration in adults.
Duration of 4 hours or less:
A bolus injection of 2,000 to 2,500 anti-Xa IU at the start of dialysis.
Duration of more than 4 hours:
A bolus injection of 2,500 anti-Xa IU at the start of dialysis/filtration, followed by 750 anti-Xa IU/hour as a continuous infusion.
Interchangeability
No interchangeability with other LMWHs, because of pharmacologic differences. 
Use in patients with a creatinine clearance level < 30 ml/minute is not recommended, as dosage in this population has not been established. Available evidence demonstrates no accumulation in patients with creatinine clearance levels down to 20 ml/min. When required in these patients, tinzaparin sodium administration can be initiated with anti-Xa monitoring, if the benefit outweighs the risk (see section 4.4: Renal impairment).
IRIS study: Innohep® in Renal Insufficiency Study (IRIS), suggesting that tinzaparin (Innohep®, LEO Pharma) may increase the risk for death, compared to unfractionated heparin (UFH) when used to treat elderly patients with renal insufficiency.
Contraindications
• Hypersensitivity to the active substance or to any of the excipients listed in section 6.1.
• Current or history of immune-mediated heparin-induced thrombocytopenia (type II) (see section 4.4).
• Active major haemorrhage or conditions predisposing to major haemorrhage. Major haemorrhage is defined as fulfilling any one of these three criteria: a) occurs in a critical area or organ (e.g. intracranial, intraspinal, intraocular, retroperitoneal, intra-articular or pericardial, intra-uterine or intramuscular with compartment syndrome), b) causes a fall in haemoglobin level of 20 g/L (1.24 mmol/L) or more, or c) leads to transfusion of 2 or more units of whole blood or red blood cells.
• Septic endocarditis.
___________________________

E. UNFRACTIONATED HEPARIN (Monomeric heparin) Enoxaparin, Fraxiparin
___________________________
F. Anti-Platelet, (Clopidogrel, Aspirin, Dipyridamol)