Acknowledgement, Contact us, Chat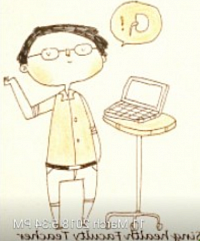 A teacher
ACKNOWLEDGEMENT 
Síncerus Germanus Honestus (Sincere Useful Honest)

Acknowledgement
   This website is open access and it does not require log-in information.
   The publisher of this educational website acknowledges all authors, organizations and other publishers that were cited and linked to this web publication.
Disclaimer
   The contents and links of this website are for educational, informational and reference purposes only for teachers and students of medicine faculty. They do not express the web publisher's view. Any similarities of the contents used, are mere coincidence or commonness only.
    The author cannot be responsible for misuse or misapplication of the material on this website.
Conflicts of interest
   The publisher of this website declares no conflicts of interest and declares no obligation to anyone or any organization in relation to the contents of the website. The contents and the links are derived from the freely available materials from other websites that do not have any log-in requirements. 
   The publisher of this educational site endeavoured for sincerety, usefulness and honesty.
____________________________________
Dr Suhail SM

Renal and Internal Medicine Faculty
SGH (SG), current; KFSH&RC (Riyadh) S Arab; BHS (Up) BD; MBBS, FCPS, MRCP (Glasg), CESR (PMETB-UK)
GMC (Sp) 7114335
Published: 2012/07/04
Updated: 2022/10/04
________________________________________
"Imagine a world in which every single human being can freely share in the sum of all knowledge." Wikimedia